Are you looking for a subcontractor to help you with drainage or property excavation? We're an ideal partner.
New subdivisions and even established residential areas can be fraught with drainage issues even though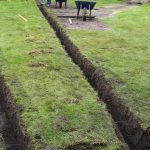 there are certain codes that must be followed during the initial development stages. With only 4 feet sometimes separating you from your neighbour in a new subdivision, often times water can be a big problem. How many times have you seen a developer scrape away the top 12″ of top soil, only to replace it with 'FILL" and barely 3″ of soil?  Wonder why the spring rains don't drain away? We help fix these sorts of problems.
We have the equipment, and the know-how to reduce ponding, create clear swales, berms, and channels to direct and take that water away. And sometimes, we even use that water during the construction phase of Fusion Landscapes.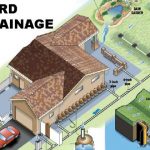 When you buy a parcel of land and want it prepared to build your new home, we clear properties and establish preliminary slopes and grading. We'll make it ready for your outdoor living plans.

OHS can help with that too!