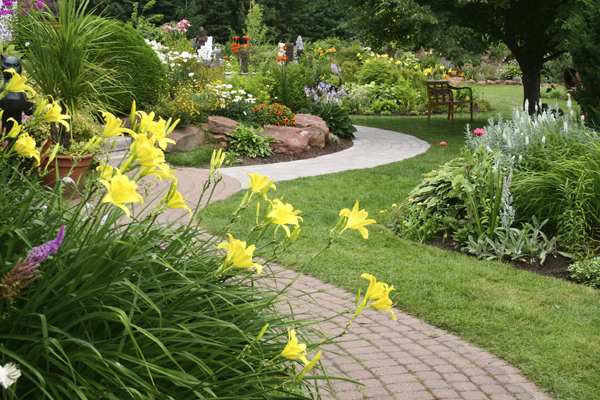 "It's the outside of a property that attracts visitors first. Keep in mind that potential buyers often come just to take a look at the outside of your property before even contacting you."
According to comfree.com, staging the exterior of your home is a critical first step when listing your property for sale. Furthermore, it can be done inexpensively by you or a professional from outdoorhomestaging.com for as little as $249.99!!! (Standard 4 hour on-site appointment)
Mention this blog entry and get 10% off the regular 4 hour service cost when you book your appointment. But hurry!!! Once the outdoor season kicks into high gear, the team at outdoorhomestaging.com will be busier than ever!
Exterior
The longest yard… is the first step to get buyers to consider your property!
[list style="list1″ color="green"]
Mow and TRIM the lawn.
Prune and clip the bushes.
Weed the flower beds and apply a covering of colour matching Mulch*!
Remove anything cluttering up the yard. Even little Jimmy's tricycle!
Clean the pool, garden furniture, BBQ, garbage can, etc.
[/list] ALL these services are available from outdoorhomestaging.com and are included in the basic 4 hour package for just $249.99* Pool maintenance available** if you have all required hoses, vacuum and your water is chemically balanced.
Don't drive by, Drive IN!
[list style="list1″ color="green"]
Get rid of oil stains. This can be accomplished in relatively short order, and we recommend that your driveway receive a coat of driveway sealer.
Move unused vehicles that are in the way. You want people to park in your driveway and NOT on the street, right? Make them feel at home from the very first visit
Outdoorhomestaging.com has a driveway sealing company we work with exclusively who will do the work for you. Please inquire for details on this service.
[/list]
The little details mean a lot to the buyer.
[list style="list1″ color="green"]
Replace missing shingles on the roof. Show the buyers you care about your investment and they will too!
Welcome people at your front door. You may even want to repaint it but definitely make sure it's clean and free of spider webs, clutter, and in spring, summer and fall, strategically placed flower pots, containers and tropical plants mean a lot to the buyer and higher sales potential for YOU.
Repair broken windows and screens. Need we say more?
Paint window and door frames and anywhere else paint is flaking.
Remove political or other symbols, such as flags. Alienation of buyers not familiar with, or with the same stance is like saying as a liberal, you won't sell to conservatives! That isn't true, right?
Be sure ALL your outdoor lighting is functioning and bright! Replace bulbs as necessary with a higher rated CFB
[/list]
Through its maintenance professionals, outdoorhomestaging.com will take care of these details. We know you don't want to climb on your roof, but buyers will use a missing shingle as a way to lower their offer price. THAT'S a BAD thing!
*Materials extra.
** Additional hours extra